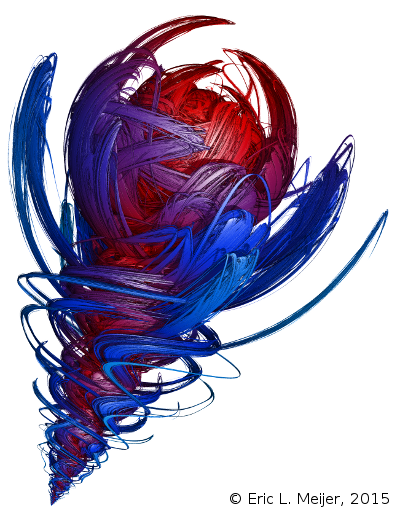 I made this fractal for the cover of my Ph.D. thesis. It was inspired by the infrared spectrum that I had been computing.
About this Site
This website is dedicated to images of fractals I make with elmfract, my personal fractal program. Elmfract started out in 1999 as a programming exercise in C++, but it grew into a full-fledged obession, er, hobby, because of the artistic aspect. The fractals on this site are constructed from formulas of a few lines that determine the overall shape as well as the surface texture details. That is why I think that the images sometimes have a surprising natural look to them, although they are completely computer generated.
A first attempt to demonstrate the underlying principles can be found on the explanation page.
When I am not making fractals, I play some classical guitar,

, also in the TEC ensemble, or work on medical software for a big medical imaging company.
Contact
If you have anything to say about the images, you can send me a mail, using the address in this picture.



Eric Meijer, May 1 2015
History
April 29, 2015: started creating mobile friendly version of the site using responsive design techniques.
August 13, 2011: new set of recent images added, and moved some images that were there before to the gallery.
December 19, 2009: Update! After more than a year of inertia, restyling of website, removing most of the javascript. Added new recent images, and moved the old recent images to the restructured gallery pages.
October 11, 2008: new set of recent images added, and moved the images that were in that section to the gallery. Also added the latest examples.
March 1, 2008: added some fractals to the recent section, and moved some of the image that were there before to the gallery.
December 28, 2007: added favicon.ico, and some examples; changed some details to please the W3C validation service.
December 10, 2007: installed website on a new server, using my own sparkling new domain "elmweb.nl", and changed the email address on the contact page accordingly.
May 18, 2007: put fresh images in the recent section, and moved some of the image that were there before to the gallery; also adapted the intro blurb and fiddled around a bit with the style sheet.
April 23, 2006: added examples 136 through 143, changed some of the link html code, and split the examples onto multiple pages.
December 22, 2005: added the explanation page, put titles above images.
November 10, 2005: resized all images to maximum 1024x768, added copyright notices.
November 5, 2005: added site to Fractal Artists' Ring.
October 30, 2005: added javascript for easier browsing through galleries, fixed formatting code that made home page look funny in Internet Explorer, resized examples that did not fit reasonably on a browser on a 1280x1024 screen.
September 30, 2005: new recent images.
September 17, 2005: layout changes, additions to gallery.
September 11, 2005: initial version.
All images on this site are © Eric L. Meijer, 1999-2015